The Erasmus+ strategic partnership Open Virtual Mobility (OpenVM, 2017-2020) was represented at the Human Computer Interaction International Conference 15-20 July 2018 in Las Vegas, USA.
The OpenVM team submitted the following paper dedicated to the design of the OpenVM Learning Hub:
Designing a Collaborative Learning Hub for Virtual Mobility Skills.
Insights from the European Project Open Virtual Mobility.
Ilona Buchem, Johannes Konert, Chiara Carlino, Gerard Casanova,
Kamakshi Rajagopal, Olga Firssova, Diana Andone
The paper was accepted for presentation at HCI International 2018 and for publication in the Conference Proceedings, published by Springer in a multi-volume set. You can read the paper online by following this Springer link: https://link.springer.com/chapter/10.1007/978-3-319-91743-6_27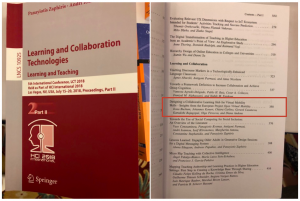 The contribution was presented by the project coordinator (Ilona Buchem) at the HCII 2018 on Friday 20 July 2018 at the session: "Designing collaborative learning experiences in formal and informal settings", anchored in the thematic area: Learning and Collaboration Technologies, and led by Patrícia B. Scherer Bassani from the Universidade Feevale, Brasil. You can view the presentation slides on SlideShare: