On October 17th Cineca's Marica Franchi presented the work carried out by the OpenVM partnership on "Open Badges for Open Virtual Mobility skills: connecting a custom competency framework, ESCO, elearning and credentialing" at the 18th ePic Conference in Lille, whose core theme was on "Building Open Recognition Ecosystems".
The presentation offered to participants an excursus from the research conducted in O1 and its output as Open Virtual Mobility Framework mapped to ESCO, through its highlighting with Open Badges in a meaningful gamification approach (O5) connected with the Competency Directory (O3) and leveraging the integration of Bestr with the hub (O2).
See the video recording of the presentation here, starting at minute 33.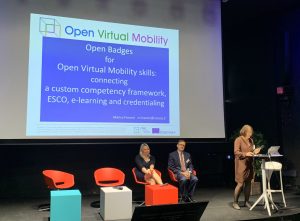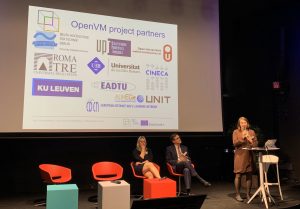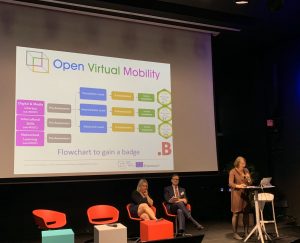 Here is the abstract presented:
"OpenVM is an Erasmus+ project aimed at supporting learners in developing skills useful to fruitfully engage in Virtual Mobility experiences. Open Badges are used to recognize such skills in learners engaging in mini-MOOCs available on a Moddle-based learning hub and taking the corresponding assessment: as such, Open Badges act as a junction where the work done on different aspects of learning meets.
Open Badges represent 8 competences at 3 levels: these skills and levels have been identified through the construction of a dedicated Competency Framework, extracting from a systematic study of experts' opinions the set of competences deemed useful for Virtual Mobility – both from a student and from a teacher point of view. These competences have been mapped to ESCO, so that the main european competency framework is referenced for common understanding; the connection between the custom framework and ESCO also works as a proposed expansion of ESCO to cover more specific competencies. The overall framework and mapping has been expressed in a browsable autonomous Competency Directory.
The Moodle-based learning hub hosts mini-MOOCs addressing each of said skills and levels, offering a self-assessment tool that the learner can leverage both to identify his/her current level and to verify his/her learning.
Based on the output of the assessment at the end of a learning session, Open Badges are automatically issued from the Bestr platform leveraging the XAPI integration.
Open Badges therefore describe the competency at the concerned level, according to the Competency Framework, they reference the Competency Directory including the mapping to ESCO, and their criteria express the specific assessment proposed by the hub at that specific level.
Additional integration between the Badge platform (Bestr) and the learning platform (Moodle) has also been performed in order to show available Badges for each miniMOOC and activate a gamification perspective."