El equipo de la UIB, a cargo de Output 07, asistió a la Conferencia Edulearn 2018 en Palma (Baleares, España) en nombre de la asociación Open Virtual Mobility Erasmus +. Fue un gran honor representar nuestro proyecto en una conferencia internacional tan grande!
Se incluyó en el segundo día de la conferencia en una sesión sobre Calidad y compartimos una interesante sesión e intercambio de ideas y trabajo con colegas de todo el mundo cuyo objetivo principal es la calidad de sus proyectos.
La presentación fue sobre los resultados iniciales del trabajo realizado en el Output 7, que trata sobre Calidad y Sostenibilidad. El resumen se publica aquí y la referencia del trabajo es la siguiente:
Buchem, I., Tur, G. & Urbina, S. (2018). Quality assurance for attainment, assessment and recognition of virtual mobility skills in context of open education. QA Framework in the Open Virtual Mobility project. Edulearn Conference 2-4 July 2018. Recuperado de https://iated.org/concrete3/view_abstract.php?paper_id=65036
Los resultados que presentamos fueron el primer análisis de la evaluación de toda nuestra estrategia de calidad.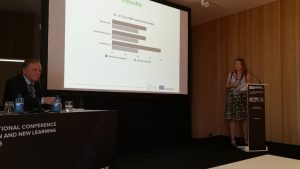 A partir de estos primeros pasos de investigación se ha aprendido mucho y se diseñarán e implementarán nuevos instrumentos en los próximos meses del proyecto. Aquí se puede ver nuestra presentación:
Y, por favor, manténgase atento porque pronto se publicarán más noticias sobre nuestro marco de  Calidad!